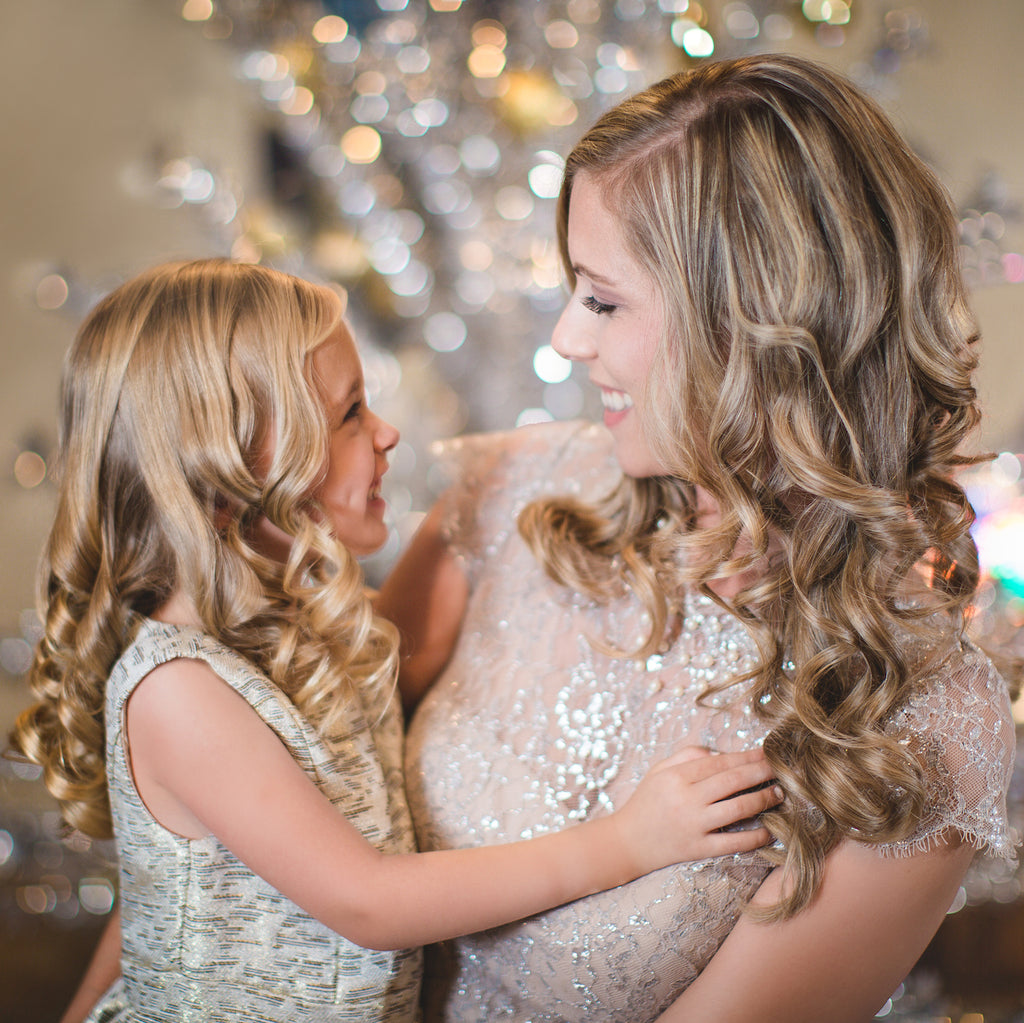 3 Spoolies Holiday Hair Hacks for Any Winter Occasion
Did you know that across the globe, during the Christmas holiday season there are 20+ winter holiday traditions? This tends to be the most chaotic time of year no matter what you personally celebrate.

And getting ready is no exception. Whether you're taking festive photos or gathering with loved ones to share some holiday cheer, it feels like you're constantly doing your hair. Don't get us wrong—it's fun to get a little dressed up and then look back at the photos for years to come.

But we should be spending this time making memories, not fighting with our hair.

That's why we put together this guide to holiday hair hacks using Spoolies! All 3 of these styles.
Work like a charm for natural hair, extensions, and wigs
Will look great on you or your children
And they're easy as pie!
Save Time Styling with Jumbo Blue Spoolies

This holiday hair hack is perfect if you have thick hair, long hair (up to 17 inches), or both! We like this method for occasions where you want a relaxed, all-down style. It's also a great foundation if you want to do a fancy bun or half-updo.
Best of all, these steps are way faster than doing a whole head of curls with a curling iron—whether it's your own hair or your kiddo's.
1. Start with very slightly damp hair. Just mist it every-so-slightly if your hair is dry, or let it mostly dry after a wash. You really want dry right after washing or the slightest amount of moisture here to help lock in your curls.
2. Wrap your hair with our Jumbo Spoolies starting at your scalp. Pop each curler shut by folding the top over your hair until all of your hair is wrapped up (may need two packs for longer, thicker hair).
3. You'll want to leave your curlers in for 2 – 3 hours for a relaxed curl or 6 to 8 hours for a tight curl. You can sleep in them overnight or wrap your hair in the morning if you have evening plans. Remember, there are no pins or clips— sleeping in Spoolies is a cinch!
4. When it's time to start getting ready, gently unwind your hair from your Spoolies curlers. This holiday hair hack helps your curls last for hours and hours because you let them set for so long. 
5. From here, style as desired! Run you fingers through each curl for a cozy, relaxed style. Pull them up into a bun with braids or twists in the front for an effortless yet special style. Or pull the front back to create a polished half-up, half-down style (also perfect for keeping hair out of little ladies' faces!).

Get Picture-Perfect Curls with Medium Pink Spoolies

Our second holiday hair hack is best suited to shorter and medium-length hair for tight curls. Pixie cuts, lobs, and any hairstyles that hit around your collarbone are perfect for medium-size Spoolies.
This set gives you quite a few styling options, and many of them are perfect for holiday pictures.
1. Whether your own hair or your kiddo's, start with barely-moist hair. Spritz a very light amount of water onto dry hair, or let the hair mostly dry after washing.
2. Decide whether to wrap starting from the roots or mid-shafts. Wrapping at the roots will give you more curl and volume, while starting at the mid-shafts will create a looser and softer style.
3. Wearing Spoolies for longer will help the curls last longer, which is especially important on picture days! Leaving them in for 6 – 8 hours is ideal. And since Spoolies don't use any pins or clips, they're super-comfy to wear overnight.
4. Slowly unwrap the hair from your medium Spoolies curlers. Consider the theme or feel of your upcoming event. Is it a formal photoshoot, or are you hoping to get some cute shots of your little ones baking with family?
5. Try French braiding or twisting the front fringe area for a soft style that stays out of the face. For something more formal, sweep the curls into a high bun or pony and accentuate with sparkly hair trinkets. If you want to wear it completely down, lightly run your fingers through the ends and spritz with light-hold hairspray.
Feel Festive Fast with

Gold

& Silver Combo Spoolies



Our Gold and Silver Spoolies combo pack is especially great for the holiday season. The festive colors are a fabulous way to add a little holiday magic every time you get ready. Even the grumpiest kiddos get into the spirit seeing these sparkly Spoolies!
If you want to keep your hair down without looking basic, this kit is perfect. The two different sizes of Spoolies create that extra touch of polish and elegance. You can also split this kit perfectly between your natural hair and any extensions you plan to wear.  
1. Start with your hair just the slightest bit damp. You can lightly mist it if it's completely dry, or get your hair almost entirely dry after washing.
2. Start wrapping your hair in your Spoolies curlers. Try focusing the medium size around your crown and face to create volume. If you have long extensions, wrap them up with the jumbo size.
3. The easiest thing is to leave your Spoolies in for 4 – 8 hours. If you're in a hurry, you can also spend 10-15 minutes blow-drying your hair while it's wrapped up to speed things along. If you opt to use heat, let your hair cool for 1 – 2 hours. This locks in curls for hours and hours!
4. If you wear extensions, remove the Spoolies from them and your natural hair at the same time. Lightly brush your fingers through the ends to soften the curls.
5. To add even more polish, try pinning back your bangs or the entire top section of your hair. This holiday hair hack is a perfect way to look festive and draw attention to your face… without spending hours fighting hot tools and hairspray!


Skip the Stress and Shop Now

Here at Spoolies, we love the holidays. We'll take any reason to gather with those we hold dearest and show our gratitude! But even we can admit that winter sneaks up fast. One day it's Halloween costumes and pumpkin decorations… the next day it's baking cookies and anticipating the New Year.
The days go by in a whirlwind of get-togethers and great food. We hope these holiday hair hacks make this season even brighter and merrier.
It's also no secret that planning ahead makes it easier to be present and enjoy this time of year. That's why we're thrilled to announce
two
upcoming sales on Spoolies!
Find us on Zulily from November 19 – 22
to score a serious savings.
Or visit us here at
Spoolies.com
during your Black Friday shopping to take advantage of our second sale. Ordering in November means having your Spoolies well ahead of all your holiday travels and events—which also means less stress about doing your hair all season long!